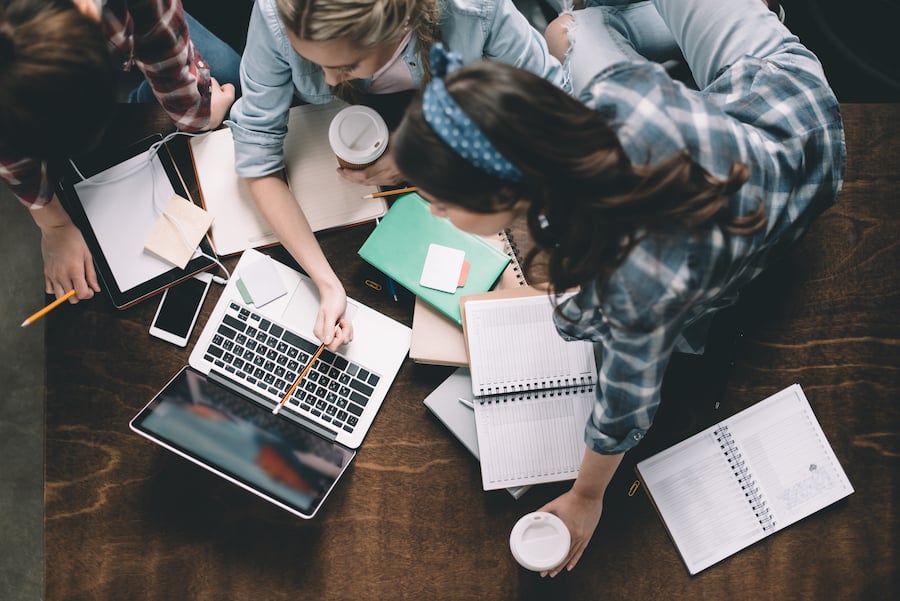 Verto Education
Increase lead volume, improve application rate, and decrease costs
Want to skip straight to improving your marketing performance? Set up a call today!
Client Background
Verto Education is a first-semester study abroad program for adventurous students coming out of High School before they transition into college. The programs allow students to experience different parts of the world while earning college credit and staying on track to graduate in four years.
Challenge
The challenge was to develop an ongoing approach for increasing the interest and consideration of Verto's programs through digital advertising. Our goal was to increase the number of student leads and applications on a weekly basis throughout the school year, while also maintaining an efficient cost per acquisition.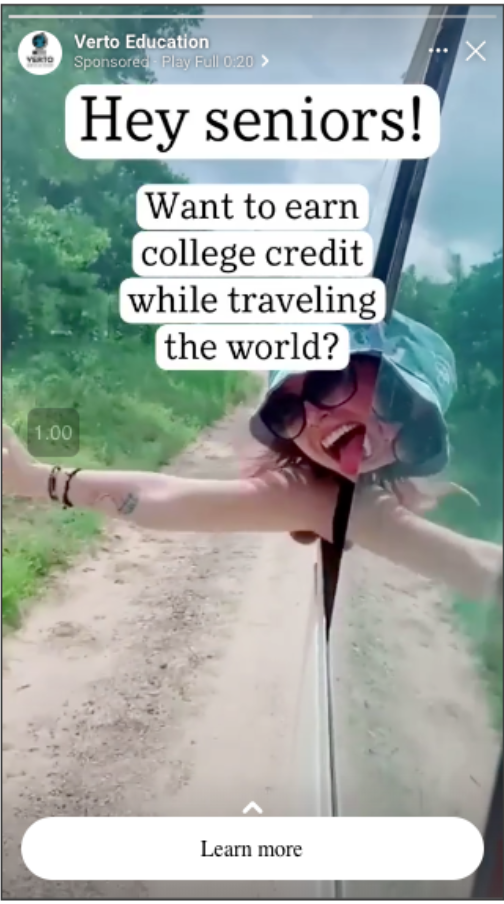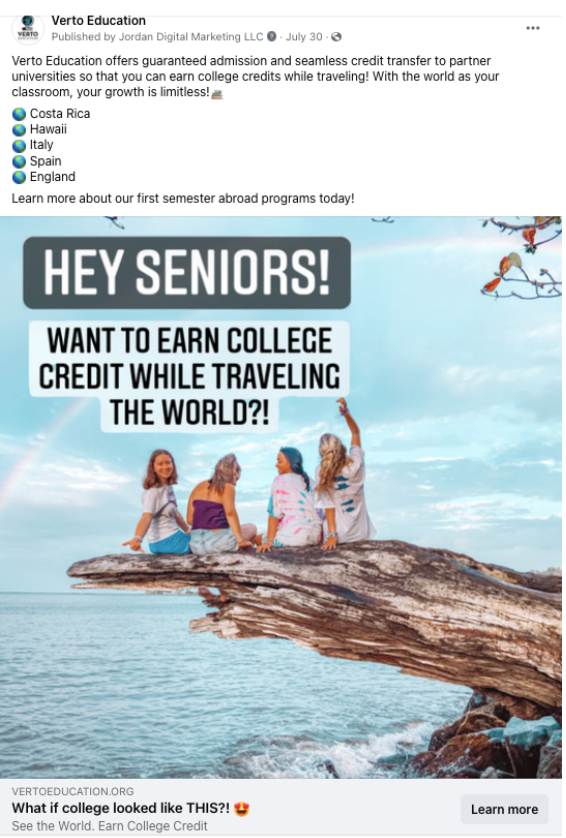 JDM Approach
Our approach for Verto Education was to simplify the structure of campaigns across their top volume driving platforms (Facebook Ads + Snapchat). We wanted to do so strategically without sacrificing volume during their peak application season. From there, we created a clean structure that allowed us to scale quickly and efficiently.
Once we had those two platforms in a strong and consistent place, we were able to expand testing into new channels like TikTok, Google, Pinterest, YouTube, Spotify, and more. This allowed us to reach high school students on additional platforms they use frequently, and further increase interest in their programs in new ways.
Strategy
Our strategy was to get in front of high school students where they spend the most time and leverage eye-catching creative and enticing messaging to capture their attention and drive interest in Verto's programs. We utilized user-generated content, and video footage of student life in these programs to create excitement and a craving for adventure.
We honed in on platforms and placements where high schoolers are highly active, like Instagram Stories, Instagram Reels, Snapchat, and TikTok, and tailored our creative to feel native to each placement. We found creative that felt less ad-like, and more native (like a friend sharing their experience) drove better results overall.
Utilizing a mix of different bid strategies also gave us a balance of scaling for volume and maintaining efficiencies with CPAs under our goals. For example, on Snapchat, we used the Max Bid bid strategy and set a maximum cost per lead below our goal. This helped keep our overall cost per lead in a very healthy place below our goals. As we began to scale, we found our Max Bid campaigns had difficulty spending their full budgets with the bid restraints in place. From there, we introduced Auto-Bid testing which allowed us to take full advantage of our overall budget to increase lead volume. By balancing both bid strategies, we had the flexibility to spend more knowing some leads would come in at a higher cost, but our ultra-efficient Max Bid campaigns were our anchor bringing the blended cost per lead of the channel down.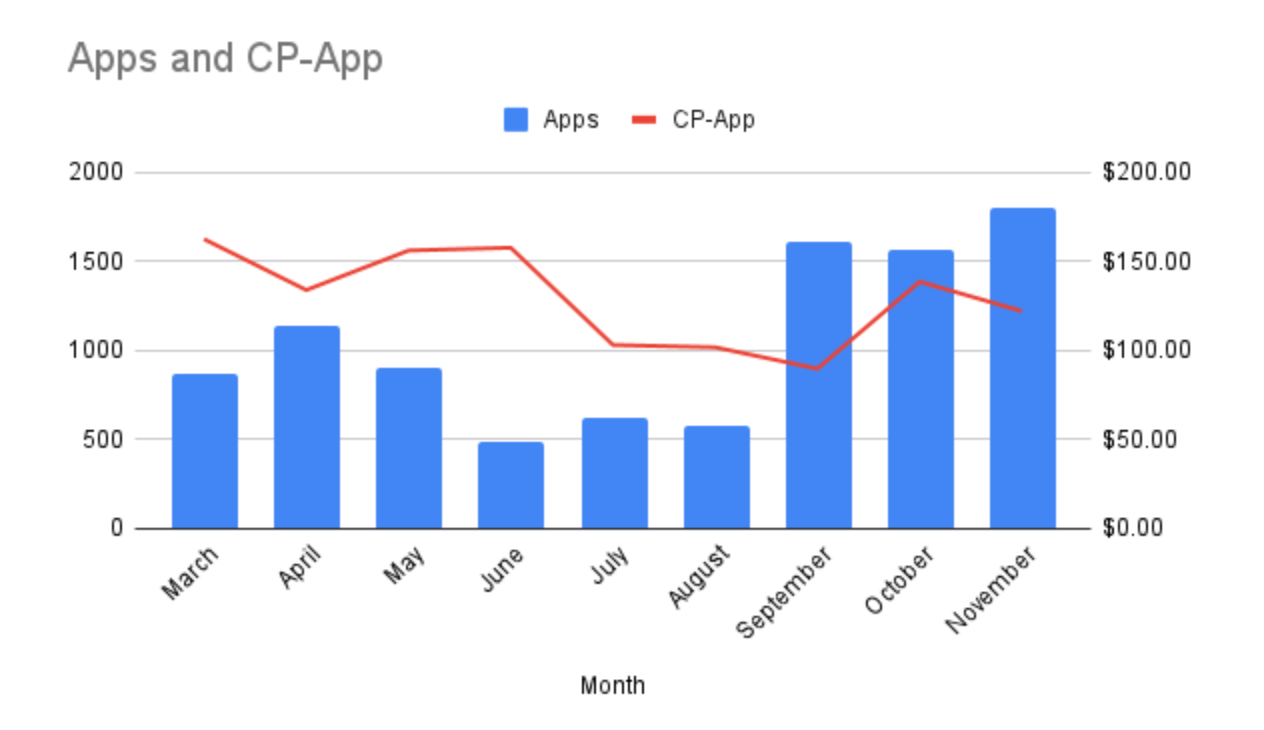 The Results
Over the course of 12 weeks after taking over management of the Verto Education account, we were able to increase the lead volume by 64%, increase the application volume by 109%, all while decreasing cost per application by 40%.
Since then, we've shifted focus to look further down the funnel and optimize towards bringing in applications. We've continued to set records of new leads and applications in a week at costs below their CPA goal. We've been able to increase weekly applications by 236% and improved CPA efficiency by 55% compared to where we originally started.
Ready to see similar progress with your business? Let's talk!